American Athletix Renovates Historic Field
Since our headquarters is in Muskegon, Michigan we felt some local pride at renovating the historic Marsh Field bleachers that are literally down the street from us.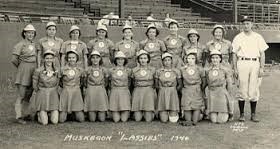 Marsh Field opened in 1916.  It became known as the starting ground for a handful of future major league Hall of Famers, with the 1940s and 1950s becoming its best years.  During that era it was home to the Muskegon Clippers, a Central League minor-league team, the Muskegon Lassies of the All-American Girls Baseball League, and the Outwin Zephyrs- a Negro League baseball team.  Frank Barnes, a major league catcher, played two seasons of minor league baseball at Marsh Field, and later played in Major League Baseball for the Yankees and the St. Louis Cardinals. He, and Elston Howard, were the first ever African-American players signed by the Yankees.
Currently Marsh Field is the place that the high school plays their night games, and is the host for city leagues and county tournaments.
To update this landmark of American baseball, American Athletix did the following and much more:
Installed new aluminum to replace the wood planks
Installed foot and rise planks to eliminate unsafe gaps.
Removed existing first row of bleachers to expand front walkway.
In place of the seats at the 2nd row, fabricate framework to create new shelf/table.
Created four new 54″aisles – placed symmetrically within the structure.
Furnish and install mid aisle hand rails (4 aisles) with pass through breaks.
Fabricate and install landing and stairs to press box entry door.
We are proud of our part in preserving the legacy of the golden age of baseball.  We were able to complete these renovations for the 100th anniversary of Marsh Field, and ensure the enjoyment of the field for generations to come.
Read the article about the 100 Anniversary of Marsh Field here.