Outdoor seating is needed for spectators at schools, parks, fairgrounds, churches, and community spaces.  When your seating has reached the end of its life, we can provide you the best replacement. We can handle any job- from the smallest little league baseball field to the largest football stadium.  Our aluminum bleachers can handle the wear and erosion that comes from dealing with the elements and makes your facility look like a world-class institution.
Most national building codes have similar standards for limiting unsafe gaps in the bleachers.  Everything we handle meets and exceeds these guidelines to give you durable safe seating for your spectators, and all of our bleachers are designed to meet state and local codes for accessibility including ADA cut outs or ramps.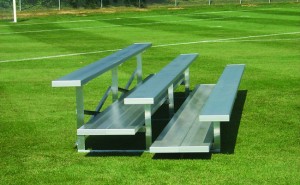 Our 3 row bleachers include anodized seat plank, and 2″x10″ mill finish foot planks on all rows.  Riser planks are generally on rows 4 and above.
Guardrails are included on all bleacher systems with 5 rows of seating or more. The 3 row bleachers top seat height is less than 30″ so guardrail and riser are not required to meet building and safety codes.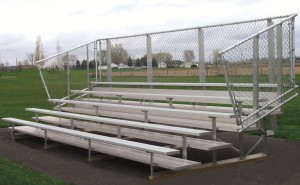 Our non-elevated aluminum bleachers models for 5 rows and above include options for aisle(s) with handrails which may be desirable by spectators, and/or required by local codes.  We recommend double (2) mill finish foot planks and riser plank on all rows. Guardrails are included on all systems with 5 rows of seating or more.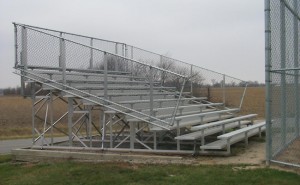 No project is too large or too small, and we can do custom installations to fit your seating needs.  Whether you need seating for your baseball field, or an entire home or visitor side of bleachers, we can provide you with safe, secure seating that your spectators will enjoy.
Contact Us To Get A Quote