All of our scoreboards, inside and out, have precision engineered extruded aluminum cabinets. 75 years of experience has helped All American to become a trusted name in scoreboards for generations.
Keeping score, again, inside or out, has never been so easy! Our lightweight and compact console can be quickly configured for use on any of our 8000 Series Scoreboards and Message Centers. Upgrading to a radio controlled system gives your console even more flexibility to keep score from nearly any location. Control either the Electronic Message Center (EMC) or the scoreboard with our Multi-Sport Console. Interchangeable slipsheets make it easy to score the sport you need. Removing the slipsheet reveals a fully operational keypad to change Electronic Team Names and control the EMC!
Adding the Radio Control option allows you to connect to our 8000 Series Console with radio capabilities. Set up your scoreboard at any location – or take it with you during practice!
Indoor Range: 500+ Feet | Outdoor Range: 1500+ Feet.
Some of the key points on All American boards:
Aluminum extrusion frame with continuous mounting channels. This means there is no need to weld or drill, and there is greater structural integrity.
The wireless and rechargeable battery components are built in, so there is no external cables or modems.
Built-in polycarbonate shatterproof protective face panels provide protection up to 100 mph, with no discoloration or cracking.  See the video here.
All American Scoreboards use more LED lights than any other brand of scoreboard- making them more clear, brighter, and easier to see.Same digits & components are used in ExxonMobil, Marathon, and other gas station price signs which are required to run 24/7/365.
Basketball, wrestling, volleyball.  Pick your sport. We have it. At American Athletix we keep score.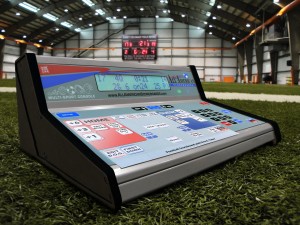 Contact Us To Get A Quote