New Playground Equipment for Tremont Elementary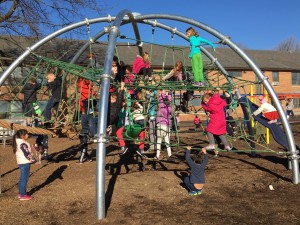 The new Tremont Elementary Playground in Upper Arlington Ohio was funded by the Tremont PTO. The PTO wanted to get rid of its 60-year-old playground equipment.  They immediately knew the kids would love the Kompan Explorer Dome, and it now functions as the centerpiece of the new playground.
The Explorer Dome net structure is designed to appeal to children's imaginations.  There are no prescribed climbing routes, and it forces children to explore the equipment in creative ways that can change every time they interact with it.  Ropes and ladders encourage children to stretch, jump, sway, balance, hang, bend, and twist.
See the video below to see the Explorer Dome and how children can play with it.
Look at all other Kompan products here.