Gym Pro Inspections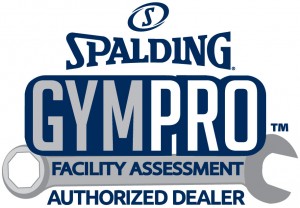 Nearly, four years ago when Spalding announced the launch of their Gym Pro Certification program, American Athletix was one of the first dealers to come on board.  We remain the only Spalding Gym Pro dealer in Michigan and one of the few in the midwest.
Below you find some of the things mentioned in the program in a press release about the initial Gym Pro thrust:
"The athletic equipment industry has generally been focused on new construction with little regard for servicing athletic equipment that may have been installed for several years.  As a result, many gymnasiums and athletic facilities have been, for the most part, neglected when it comes to service and regularly scheduled inspections.
In order to address this situation, Russell Brands, LLC, owner of the Spalding® trademark ("Spalding"), has developed a program that provides gymnasium and facility inspections for athletic facilities.  Spalding is in the process of building an infrastructure of dealers throughout the country to provide this type of inspection.
The new Spalding® GymPro™ program and the certified Spalding® GymPro™ dealers provide the inspection service to schools; parks and recreation departments; and state and local government agencies.  A certified Spalding® GymPro™ dealer has received hands-on training from Spalding instructors and must attend recertification seminars to keep their status as a "Certified Spalding® GymPro™ Dealer" current.
Spalding® GymPro™ dealers can be found in many locations throughout the country. A certified Spalding® GymPro™ dealer will make an initial assessment and consultation on-site with coaches, athletic directors, facility technicians and/or any other interested school or facilities personnel. The inspection will evaluate performance, and is designed to promote education in the use and selection of appropriate equipment.
Ceiling and wall-mounted equipment can be highly technical because of the mechanical and engineering requirements of this equipment.  As a result, there is a need for a reliable source that can help prioritize maintenance, make repair and/or replacement decisions, and select the correct product for an application.  Certified Spalding® GymPro™ dealers can be your source for these recommendations and decisions.
Spalding, through the new Spalding® GymPro™ program is leading the way to help bring service back into gymnasiums and athletic facilities. All Spalding® products are driven by quality and offer long lasting athletic performance that people have come to expect when they choose Spalding®."