Creating affordable structures, Cedar Forest Products, manufactures one of the largest selections of pre-engineered, all wood, steel and wood, and all steel structures.
With offerings of picnic shelters, gazebos, pavilions, concession stands, restrooms, band shells, kiosks, cabins, lodges, multipurpose buildings and bridges, Cedar Forest Products has the versatility to craft structures that draw visitors back year after year.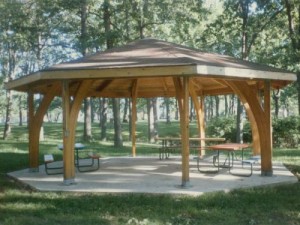 All Cedar Forest buildings are low maintenance and designed for years of service and comfort, making CFP your best long-term investment.All buildings are pre-cut the wall components are pre-assembled and construction-coded to assure perfect fit, then dismantled and delivered to the construction site
Our steel structures are bolt together construction with no on-site welding. They are prime painted and custom tinted to match finish coat of a 28 color choice.
View the latest Cedar Forest Products catalog here.