Bleacher Inspections — The Time is Now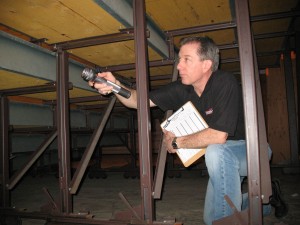 Bleacher inspections for the indoors.  Bleacher inspections for football stadiums, soccer fields, baseball fields, tennis courts.  Bleacher inspections for any place where bleachers exist.  If there was a fifth season, it would be that brief period between when school is out for summer and when it reconvenes in the fall and that time would be called the bleacher inspections season.
American Athletix is ready to take care of all your bleacher needs, from inspections, to bleacher repairs and bleacher upgrades.  Tired of pulling bleachers open by hand?  American Athletix can retrofit your old bleachers with power just like you can get with new bleachers.  Touch the switch and they open with thumb power. The catch is that our power and bleacher refurbishing package, costs a fraction of what you would have to pay for new bleachers.
Chances are your old bleachers don't need to be replaced, they just need a little encouragement. American Athletix can provide almost any bleacher system with the changes they need to give all the conveniences and features that come with new bleachers.  Our alternative to buying new can save you money.
There does come a time when all bleachers need to be replaced and, when that happens, American Athletix and Irwin Telescopic Bleachers have exactly what you need.
We are pumped up and ready to work for you. Send us in. We are ready to provide you with a winning solution to all your bleacher and gymnasium problems. Start with a call to American Athletix at 888-399-4999 to get the ball rolling.